A Huffington Post egy szélsőjobboldali amerikai republikánus képviselő útján beazonosította Orbán Viktor ideológiáját. Steve King Twitteren posztolta a szélsőséges bevándorlásellenes Voice of Europe Magyarországról szóló cikkét, és a posztban idézte Orbán Echo TV-nek (!) adott interjújának a multikulturális társadalmakról szóló részét. Ez azonos azzal, amit az amerikai fajgyűlölő, neonáci csoportok és a Ku Klux Klan vezetői hirdetnek.
Steve King iowa-i képviselő nemcsak egyszerű rasszista, hanem a Konföderáció híveként a rabszolgatartás híve. Mintha paródája lenne a fehér felsőbbrendűséget hirdető primitív náci csoportoknak: mindent gyűlöl, ami az emberi jogokat illeti, és mindent támogat, aminek halálos áldozatai vannak. King egy igazi szörnyeteg, aki Orbánt dicsérte, vele azonosult, és azt emelte ki tőle, hogy a kultúrák keveredése nem magasabb rendű életet hoz, hanem "az visszavet egy sokkal rosszabb minőségű társadalom irányába".
Diversity is not our strength. Hungarian Prime Minister Victor Orban, "Mixing cultures will not lead to a higher quality of life but a lower one." https://t.co/ZlMXzcc87w
Ez önmagában így, ahogy van, fasiszta elmélet, kultúrországban egy ilyen mondat után le kellene azonnal mondania egy miniszterelnöknek. Magyarországon ez fel sem merül, mert az ország nagy többsége ezzel egyetért. Fél mindentől, ami más és idegen, gyűlöl mindent, ami tőle különböző. Az viszont unikális, hogy Steve King ezt Amerikában mondja, a világ első számú hatalmának országából, amely a sikereit a multikulturalizmusnak köszönheti.
Egyelőre még a multikulturális nyugat-európai országok is fejlettebbek, mint Tündérország, Orbán egy fajú és egy kultúrájú országa, ahol a bőr színe is nagyon fontos. De a Huff Post Steve King nyomán beazonosította Orbán mondatát és annak szellemi gyökereit. Kiderült, hogy az orbáni mondat cseppet sem ismeretlen Amerikában, ez a Ku Klux Klan, a neonáci és fasiszta csoportok vezetői és tagjai által képviselt ideológia alapja.
Tartalmilag ugyanazt mondta David Duke, a Ku Klux Klan egykori "nagy varázslója", a fehér felsőbbrendűséget hirdető rasszista, amikor különféle tragédiákat a multikulturalizmussal azonosított.
Thomas Robb, a Ku Klux Klan jelenlegi országos igazgatója is szó szerint ugyanazt mondta, amire Steve King lefordította Orbán mondatát: "diversity is not our strength. Diversity will kill us."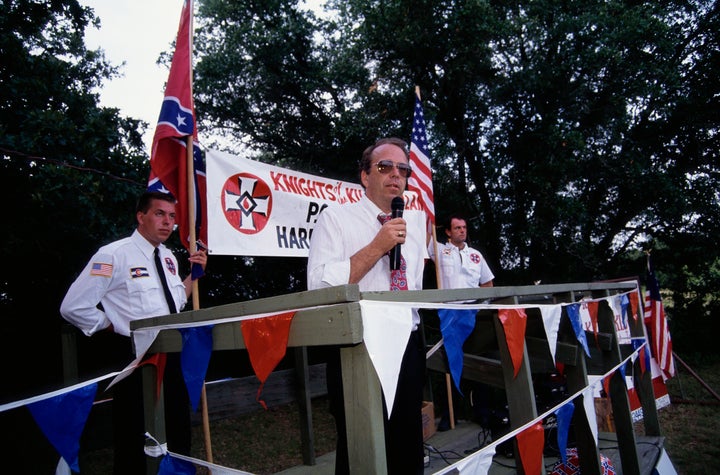 Thomas Robb Ku Klux Klan igazgató Texasban beszél, és előadja ugyanazt, amit Orbán.
Billy Roper, egy prominens amerikai neonáci a "The Big Picture" című könyvében, mintha csak Orbán Viktort idézéné, ugyancsak a Ku Klux Klan ideológiájának vezérmotívumát írta le, ugyanazokkal a szavakkal: "Diversity is not our strength. Neither is being outnumbered and outgunned." Hogy a magyaroknak is fogalmuk legyen arról, ki a miniszterelnökük, itt látható a vele azonos ideológiát valló neonáci: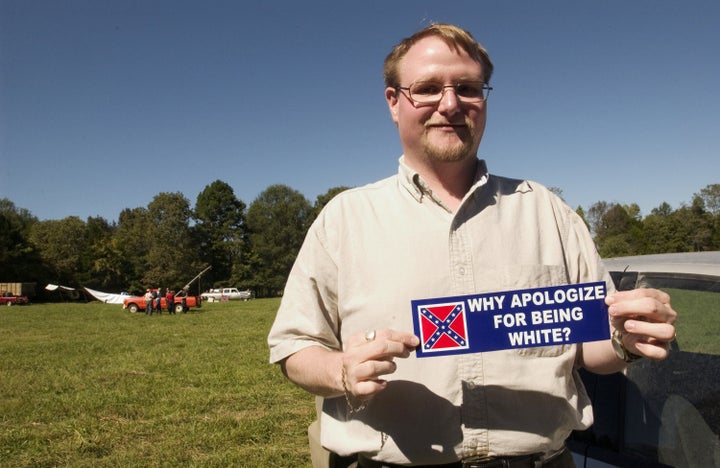 Billy Roper Arkansasban vezet egy fehér felsőbbrendűséget hirdető fajgyűlölő csoportot.
A sort végtelenségig lehetne folytatni, a fajgyűlölő, náci csoportok ideológiájának alapja az, amit Orbán megfogalmazott: a multikulturalizmus, a sokszínűség, a keveredés nem erőssé, hanem gyengévé tesz. Ez ugyanaz a náci ideológia, amit Adolf Hitler is hirdetett, amikor fajtisztaságról és a nemzet elkorcsosulásáról beszélt a faji és kulturális keveredés kapcsán.
A Huffington Post hosszan idézi ismert és hírhedt amerikai neonácik azonos tartalmú nyilatkozatait, érzékeltetve, hogy Trump elnökségével ezek a csoportok és gondolatok mennyire megerősödtek, s meggyőződésük szerint ők jutottak hatalomra, a liberálisok pedig csak akadályozzák őket abban, hogy "befejezzék ezt a munkát".
Orbán szellemiségét a magyar nyilvánosságban óvatosan azonosítják, azonban ez kiderül, amikor az elvbarátai, a Ku Klux Klan, a neonáci és fasiszta, fajgyűlölő csoportok vezetőitől kap dicséretet, és az idézetek igazolják, hogy Orbán és a Ku Klux Klan ugyanazt a rasszista ideológiát vallják. Magyarország miniszterelnöke egy náci.